We have finally launched our first prototype (v0.1) to help you with your admission essays. You can check it out here.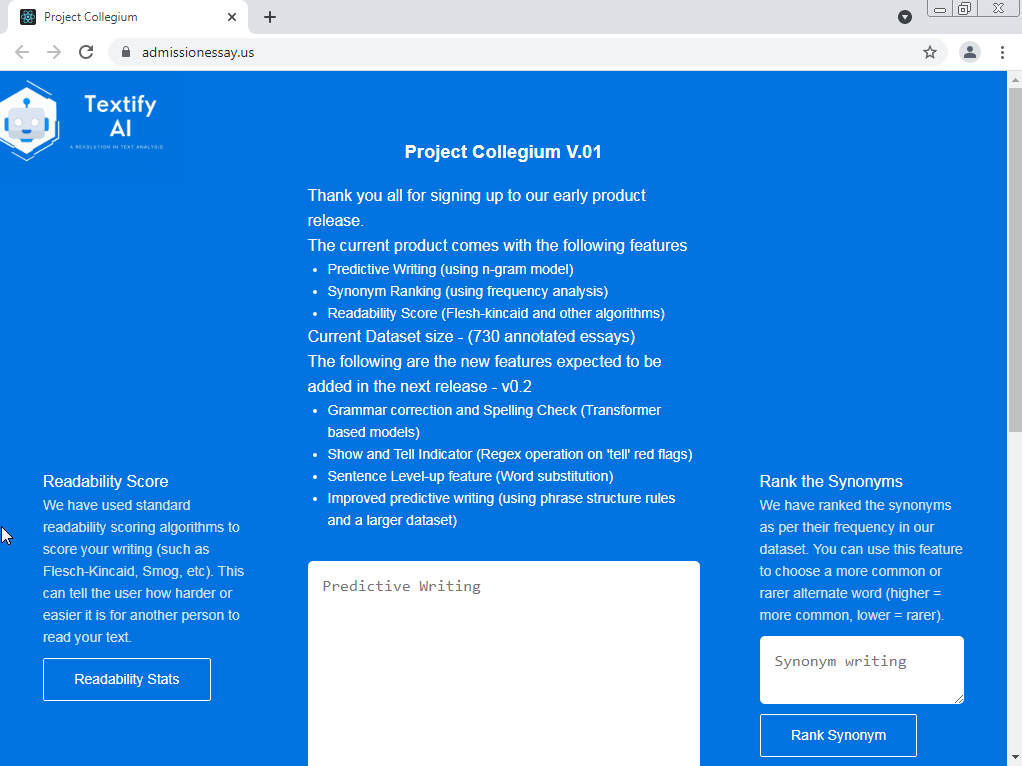 Product Features in v0.1

Predictive Writing (using n-gram model)
Synonym Ranking (using frequency analysis)
Readability Score (Flesh-kincaid and other algorithms)
Current Dataset size -> (730 annotated essays)

Expected Features in the next release -> v0.2

Grammar correction and Spelling Check (Transformer based models)
Show and Tell Indicator (Regex operation on 'tell' red flags)
Sentence Level-up feature (Word substitution)
Improved predictive writing (using phrase structure rules and a larger dataset)
About Textify AI: We are a start up working in the field of Artificial Intelligence, Natural Language Processing and Consumer Softwares. We are currently building an AI-powered writing tool to help students write college admission essays.
About Project Collegium: We are using the latest in Natural Language Processing, Artificial Intelligence and Data Analysis to create an AI-powered writing tool to help students with admission essays.
About Admission Essays: College applications to the US, UK, and Canada (also other countries) require the students to submit a Motivation Statement/ Statement of Purpose or a Diversity Statement to differentiate the student from the pool of other applicants. It is often the most frustrating part of the application since it is the only thing that students can change (It is already too late for a students to improve their grades or try out some extracurricular activities).
When are you expecting to finally launch the writing tool? We are currently going through iterative improvement of the writing tool. Currently, we have achieved a successful launch of v0.1, and will look to launch v0.02 by 15th October. We plan to get into a commercial release by Late November/early December. Please contact us at support@textify-ai-750b3a.ingress-erytho.easywp.com to ask about partnership opportunities for possible collaborations. You can also check us out on our social media accounts as shown on our website here.