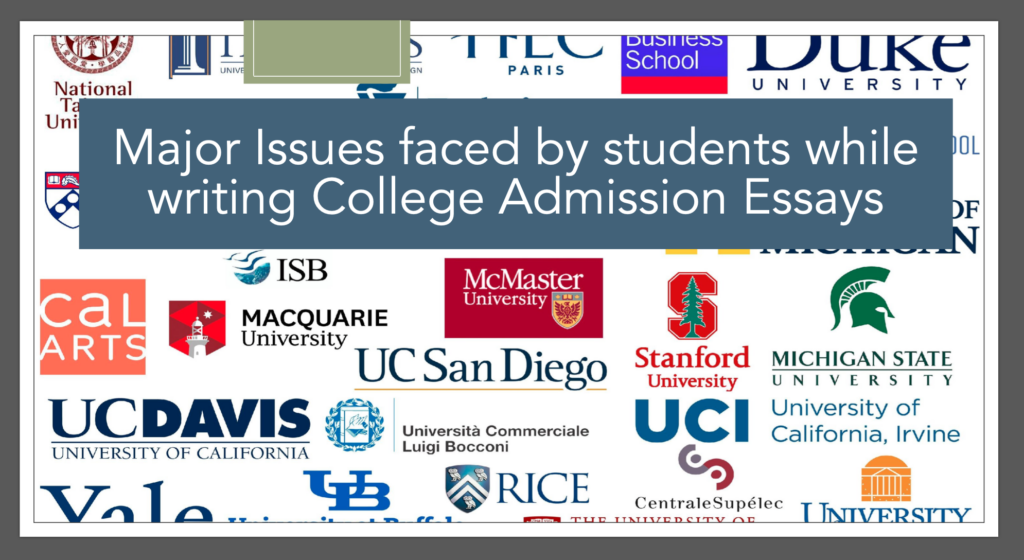 Students around the world face the hardship of admission essays come every December. We have analyzed some of the major problems students face during this admission process.
Students don't understand the topic of the admission essays

Most of the times, we as students don't understand the topic. Sometimes we try to go into deeper meanings rather than just answering to the point.
It is important to read the topic or question thoroughly and to make sure one does not deviate from it while writing the essay.

Pressure to stand out

With acceptance rates such as 7% and 9%, every student undergoes a tremendous amount of pressure to stand out to get selected.
In this process, they lack their natural talent and tend to mess up under stress. The essay topic just adds on to this.
Students tend to complicate the essays when under pressure to stand out. Just remember "Simplicity is the ultimate sophistication."

Expectation of different colleges

When students apply for colleges, they don't just apply for a single college instead they apply for many colleges to fall back on.
So, the students might get confused about showcasing which particular talent to which particular college.
Each college has a different set of expectations from the personal statements, and they choose from the applicants accordingly.
So, it becomes a huge task for the student to write multiple essays for multiple colleges and deliver it up to their standards.

Time Constraints

Students often apply for numerous colleges, and they have to write personal essays for them. Managing daily activities along with writing these essays consume a lot of time.
Additionally, the time for submitting the essays to the colleges start from September and end by January. So, students often get confused about when to submit the essays. Some think that submitted essays at the earliest would make them a preference while some think that they should submit it around the midway.
Sometimes students also struggle to decide what should be their content for different colleges and what talent to showcase in each essay according to the different universities they are applying for. They lose time in this.

Lack of Originality

Students try to make their essays more impressive by including facts and other research work related to their topics.
In this sometimes they trust a single source and not recheck the fact. So, including such facts can be risky as they cannot be trustworthy.
Also, students should avoid using some universities or organizations research work.
They should include facts which are more common to everyone.
Students should be original with their content as originality is the most impressive trait about an essay.

Grammatical Errors

Sometimes the students think that their essay should stand out in terms of grammar.
They try to make their statements sound fancy by using phrases, high-level vocabulary and complex sentences.
In this they tend to make grammatical errors which is not beneficial for their statement.
Use of proper punctuations is very important. Overusing punctuations or its wrong placement changes the whole meaning.
Students should focus on the clarity of their context and how it is going to be perceived by the audience instead of making it look fancy by framing complex sentences.

Trying to focus on more than one thing

We as human beings are so full of talent. We try showcasing it all in one essay while forgetting that it is not what is asked of. This might be similar to not understanding the topic.
For example, if the essay topic asks you to talk about your dedication to your community and you end up talking about your favorite type of tea.

Communication Barriers

From pop culture references to just quotes in one's own mother's tongue.
It can be hard to write the college essay in one universal language and even then, to convey what we really mean to them.

Cultural differences

There are over 4000 different evolved/evolving cultures.
Trying to talk about your culture to people in a place who barely know anything about your culture is big task.
It is hard to blend in and explain every term in your culture.
How can Textify AI help?
Be it someone to double check your essays, monitor the word limit, checking punctuations or helping you find the right keyword, WE are here to help you write the perfect essay for the perfect topic.
With about 30,000 essays fed into our computer database, Textify AI have analyzed them across many geographies and use cases, and have summed it up all into a simple-to-use AI tool.
Validate your grammar and writing style and get general recommendations to improve your essays with Textify AI.