AcademicHelp Free Essay Generator is a user-friendly AI-powered tool designed to streamline the essay writing process. Whether you need to write descriptive, argumentative, narrative, persuasive, compare and contrast, or expository essays, this tool provides accurate, well-structured content in a matter of minutes. Backed by reliable sources and proper MLA/APA citations, our tool is your key to efficient and high-quality essay creation. With the Free Essay Generator, you can elevate your academic writing with ease and confidence.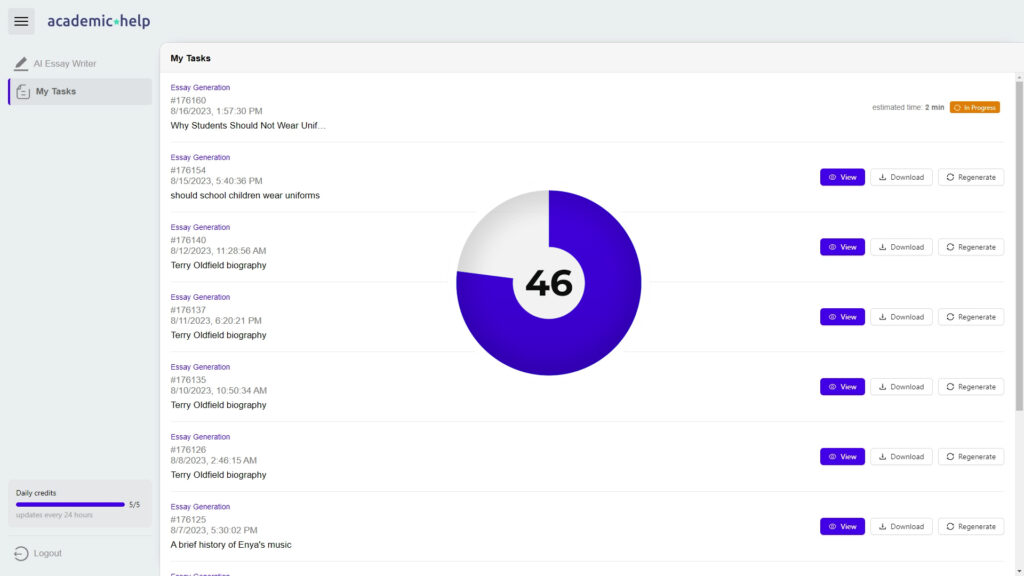 AcademicHelp Free Essay Generator Features
Struggling with academic writing? The Free Essay Generator is here to help! Our cutting-edge AI technology takes the hassle out of essay writing, providing you with accurate and well-structured essays in minutes. Whether you're a student facing a tight deadline or a writer seeking inspiration, our tool is designed to simplify your essay creation process.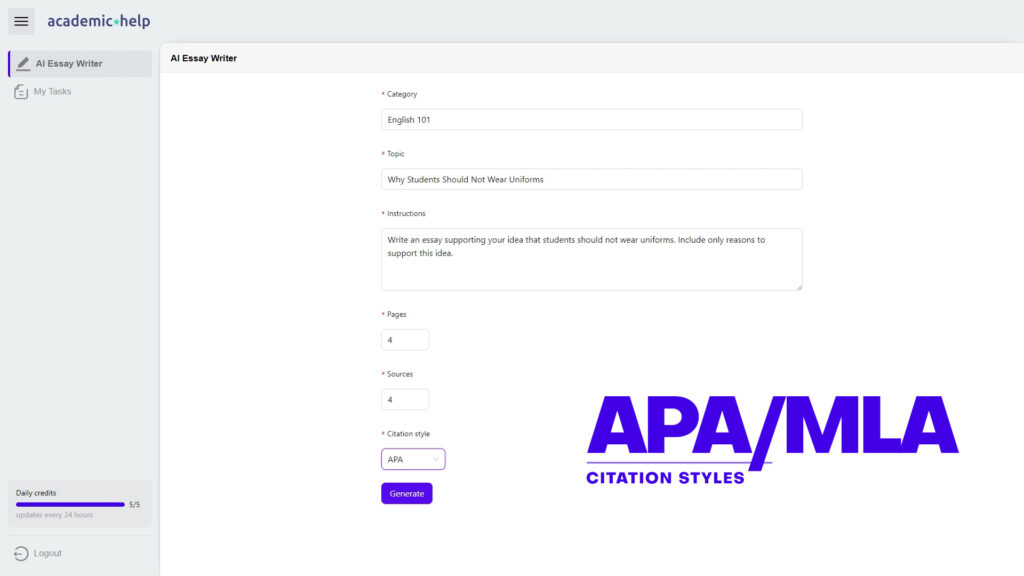 Key Features:
Essay Generation: Research and write your essays quickly, saving time and effort.
Scholarly Sources: Access credible and reliable sources to enhance your essay's credibility.
MLA/APA Citations: Ensure proper citations in your essays with MLA and APA formatting styles.
User-Friendly Interface: Our tool is intuitive and easy to use, even for those who are not tech-savvy.
AI-Powered Excellence:
We've harnessed the power of artificial intelligence to create a tool that meets your academic writing needs. After rigorous testing and research, we proudly present a product that takes the stress out of essay writing when you're juggling multiple tasks.
Choose Efficiency and Quality:
Why spend hours researching and writing when you can rely on our Free Essay Generator? With its user-friendly interface, citation support, and AI-powered technology, the tool is an indispensable asset for various essay types, including literature reviews, research papers, and more. Let us help you streamline your academic writing and achieve excellence effortlessly. Save time and create exceptional essays with the Free Essay Generator.
Check out more AI tools.
Sign up for Textify AI membership.